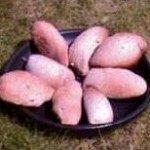 The surviving Roman recipe book, attributed to Apicius, shows that sweet wine cakes could be served with ham boiled with figs, with an optional pepper sauce. Other sources suggest little cakes like this were an acceptable offering to the household gods.
A recipe for Sweet Wine Cakes is given by Cato in De Agricultura. Flower & Rosenbaum, in their edition of Apicius, give the following proportions for making a small batch of Sweet Wine Cakes from Cato's recipe: Moisten 1lb of wheat flour with must. Add aniseed, cumin, 2oz fat, 1oz cheese; shape and place each cake on a bay leaf, then bake.
Here is an expanded version of this recipe, based on my experience of making this dough.
1lb (500g) wholemeal bread flour
2oz (50g) lard
1oz (25g) grated cheese
Must: either grape juice and yeast or partially fermented Lambrusco
Aniseed
Ground cumin
Bay leaves
Spelt wheat flour (available in the Doves Farm range) is highly recommended for this recipe, as spelt was the variety of wheat grown by the Romans. Stoneground organic wholemeal flour is also a good option. Home wine makers could try using an actively fermenting brew for the must.
Method:
Rub the lard into the flour. Stir in the grated cheese, aniseed and cumin. Try 1 teaspoon each of the spices at first but increase the amount for a more highly flavoured dough. Personally, I like these cakes highly spiced and use at least 1 dessertspoon aniseed and 1-2 tablespoons cumin.
If using grape juice, cream the yeast with approx. quarter pint (125ml). Make a well in the flour, stir in the activated yeast mix and add enough extra grape juice to make a soft dough. Prove the dough in a warm place.
If using Lambrusco, add plenty of wine to make a very slack dough and prove it in a very warm place. It will not rise as well as the grape juice and yeast dough.
When the dough has risen, knead well. The wine dough, in particular, will need a lot of extra flour kneading in. Cut and shape portions of the kneaded dough to a suitable size to fit each one on a bay leaf.
Bake in a heated oven at 200C/Gas mark 6. The time will depend on the size of your bay leaves and, therefore, the size of your wine cakes. I suggest you check small cakes at 10-15 minutes, larger ones may need 20-30 minutes.
Reference
Flower, B. & Rosenbaum, E. 1980. Apicius: The Roman Cookery Book. Harrap, London.